I have been selling off some spare arcade PCBs on eBay during the last few months. Up until now, I have sustained a 100% positive feedback score from 339 reviews. All items have been packaged and shipped within 2 business days and my seller level on eBay is well above standard. Happy days, right?
Then this asshole comes along, buys a $99 board, and then claims that the fully functioning board isn't working in his arcade cabinet (which I have no control over). The board has been tested and I have pictures and video of it running. It was shipped in a huge antistatic envelope and several layers of bubble wrap and cardboard. It was also a robust single-layer board and not a fragile board stack. This is not a board that I would expect to be damaged in transit.
He then initiates a return via eBay. I immediately sent him a message and asked if the PCB had been damaged in transit and if he had any pictures of the board.
He did not respond.
I sent him a message with suggestions for things he should check in his arcade cabinet.
He did not respond.
Fun fact: If a buyer claims that an item doesn't match the description, your funds are frozen and the return is auto accepted by eBay proxy. You are out of the loop and your only choice is to accept it.
I then initiated a chat with eBay customer service. They argued that accepting the return and then relisting it would be in my best interest as a seller. That the cost of return shipping and customs fees would exceed the value of the board did not seem to sink in.
I got absolutely no help as a seller from eBay in this scenario. The buyer ignored all messages from me, knowing full well that he would get a full refund and also be able to keep the item if he just waited a few days and kept stalling.
Excerpt from chat with customer service:
"I would love to thank you for staying with eBay for 24 years now. We value and appreciates your loyalty to us. You are one of the loyal members that we have that made us stronger as years pass by.
I've reviewed the details of this request, I understand that the buyer opened a return request because they claimed that the item is not working, of which reason you do not agree because of the authenticity of the items you sell at our platform. I appreciate you trying to help out the buyer and trying to explain how can they use the item. Also, I'm sorry to hear that transaction did not go as expected. However, I would like to inform you that when buyer creates the return as not as described then according to policy buyer can file for return.
Also, when a buyer receives the wrong item, it arrives damaged, it doesn't match the listing description, or the buyer files a return within your return policy, they can return it to you for a full refund (including original shipping costs). Because the reason is outside of the buyer's control or within your return policy, we're also asking you to pay for return shipping.
I've placed the request on hold for 4 days to give you time to arrange return shipping with the buyer. Please note that if you don't resolve the issue by August 9, 2023, we'll issue the buyer a full refund on your behalf without requiring the item to be returned."
I then reported the buyer for making a false claim. The next thing that happened was this: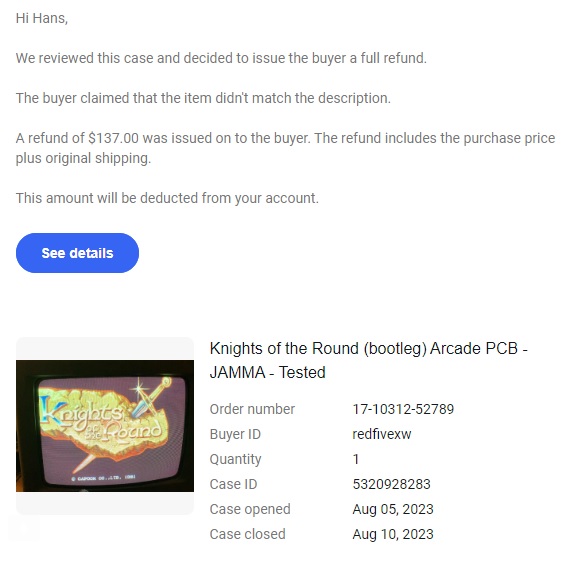 Fun fact: As a seller, you are not allowed to give negative feedback to a buyer. When issuing feedback, you are presented with a screen with one button, that says "positive". If that isn't checked, you are not allowed to provide any feedback at all.
I have a hard time interpreting this as anything other than a mechanism for protecting scammers.
Anyway,…
I decided to give redfivexw positive feedback since this would allow me to qualify the experience with 500 carefully chosen letters.
I'm now done with eBay. Permanently.
I will never sell or buy anything on their platform ever again. I'd rather burn the remaining stock of arcade PCBs than let this company earn percentages of future sales from my account.